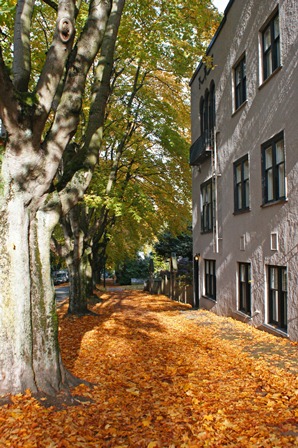 Fall is a great season! But there is the small issue of those pesky leaves that are swirling through the air all across Hampton Roads. They may be beautiful but boy do they make a mess! For many, fall leaf cleanup is a big headache, but it doesn't need to be. Here's your cheat sheet for making fall leaf cleanup a breeze.
Sometimes the easiest way to handle fallen leaves is to not handle them at all! Unless leaves are near a storm drain, ditch or waterway, there are a lot of benefits to letting the leaves "fall where they may." A leafy carpet is an important habitat and food source for wildlife including turtles, frogs, lizards and many insects. This is especially true during the long, harsh winter months. Leaves will also naturally decay and return nutrients (aka fertilizers) to your soil. No cost, labor-free fertilizer? I'll take it! But please be mindful that leaves, like other yard waste, can be harmful to local waterways if they find their way into storm drains or ditches. Leaves that clump together in storm drains and ditches can lead to street flooding and also send pollution into local waterways.
Can't deal with a leafy mess? That's OK, we know some people feel strongly about having a tidy, manicured yard – I'm married to one myself! But even tidy landscapers can be eco-friendly with their leaf clean-up. Mulch mowing or composting the leaves is the greenest way to dispose of leaves. Mulch mowing shreds the leaves into small pieces that are hardly noticeable and decay quickly and naturally improve the quality of your yard. Another option is to rake the leaves into a compost bin. Not only does composting keep leaves out of the landfill, it also gives back to you directly in the form of  free organic fertilizers that are great for your lawn, garden and easy on local waterways. If you're not into compost, that's OK too. Your local city or county is ready to help you responsibly dispose of those messy leaves. Leaf collection requirements may be different depending on where you live in Hampton Roads. Many areas require leaves to be bagged – sometimes in special compostable bags. Other areas use suction (yes – a giant vacuum cleaner!) to collect the leaves so bagging is not allowed. Connect with your city or county below to learn more.