And today's winner of the GRAND PRIZE is (drum roll please)…
Patty Downing of Virginia Beach!
Congratulations Patty! (And to your lucky pooch, Ruby  too!) Because Patty took the pledge to scoop the poop to help keep our local waterways clean, she is taking home the grand prize of an askHRgreen.org gift bag, a five day Dog Daycare Package from Happy Tails Resort, Free Doggie Dips for a month from The Skinny Dip and a Super Duper Pooper Scooper from Elizabeth River Project and River Star Homes!
The prizes may be gone, but scooping the poop is still an important part of having a healthy community and thriving waterways. Help us continue to spread the scoop the poop message by encouraging your friends, family and coworkers to sign the pledge to leave no poop behind.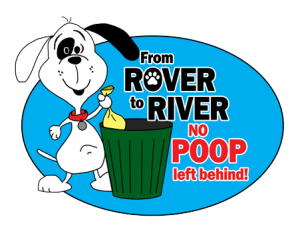 Special thanks to all those who were involved in the From Rover to River – No Poop Left Behind partnership. In just 4 short days, 545 residents in Hampton Roads pledged to keep Hampton Roads pet waste free – amazing!
Chesapeake Animal Services Unit

Chesapeake Bay Foundation

Chesapeake Humane Society

Elizabeth River Project

Heritage Humane Society

Hoffler Creek Wildlife Foundation

James River Association

Lafayette Wetlands Partnership

Lead Hampton Roads Class of 2014

Lynnhaven River Now

Nansemond River Preservation Alliance

Norfolk Animal Care & Adoption Center

Norfolk SPCA

Peninsula SPCA

People for the Ethical Treatment of Animals

Portsmouth Humane Society

Suffolk Humane Society

Virginia Beach Animal Care & Adoption Center

Virginia Beach SPCA