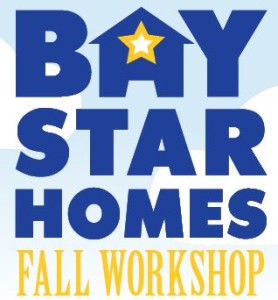 Hampton Roads residents have two chances in October to attend a free fall workshop presented by Bay Star Homes.
On October 16 and 17, Bay Star Homes will host workshops on fall tips for native tree selection and care and a variety of pollution prevention topics to help keep our region clean and beautiful.
Each attendee will receive a FREE TREE just for attending and two lucky attendees will each take home a FREE RAIN BARREL.
Registration is free and open to anyone but space is limited, so sign up today by clicking on the links below.
Bay Star Homes Fall Workshop in Newport News
Topics: Fall Gardening and Tree Care Basics: Planting, Pruning and Selection & Preventing Pollution: One Bay Star Home at a Time 
Monday, October 16
6:00 – 8:00 pm
Denbigh Community Center
15198 Warwick Blvd, Newport News
click here to register
Bay Star Homes Fall Workshop in Chesapeake
Topics: Fall Tips for Native Tree Selection and Care, Keeping Hampton Roads Beautiful & Stormwater Basics
Tuesday, October 17
6:00 – 8:00 pm
Hampton Roads Planning District Commission
723 Woodlake Drive, Chesapeake
click here to register
These free workshops are made possible by a grant from the Chesapeake Bay Restoration Fund. You can support restoration activities in Virginia, such as this, by purchasing a Chesapeake Bay license plate.