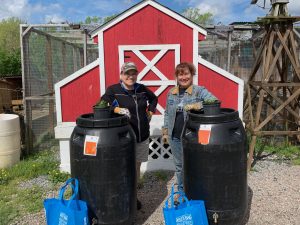 Join us this fall for two rain barrel workshops offered by askHRgreen.org and the Bay Star Homes program. This is the perfect opportunity for Hampton Roads residents to create a fully assembled 55 gallon rain barrel to help reduce stormwater pollution and conserve water for the low price of just $20!
Rain barrels help save you money on outdoor watering…but they help our waterways too. Rain barrels capture rain water from your roof before it has the opportunity to travel across your yard and paved areas where it collects pollution and debris like lawn chemicals, dirt, leaves, animal waste, and more. Eventually rainwater that flows across land will drain to our waterways through ditches or storm drains. Less water flowing over lawns and hard surfaces means less polluted runoff in our rivers and streams.
The water captured in a rain barrel is not safe to drink but there are many ways you can use it safely. Watering your lawn and garden in the summer can account for up to 75 percent of your water bill. Cut back your water usage by replacing tap water with captured rain water when you water your lawn or garden and when washing your car or dirty lawn equipment and tools.
Workshop participants will also receive a free Virginia native plant to add to their garden this fall. Native plants are adjusted to the climate here in Hampton Roads and thrive with little maintenance. They also provide benefits for local wildlife – including pollinators like bees and butterflies.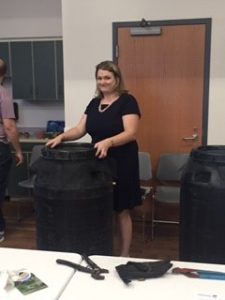 A portion of this workshop was funded by a grant from the Chesapeake Bay Restoration Fund, allowing us to offer rain barrels at the low price of $20 per barrel. You can support restoration activities in Virginia, such as rain barrel workshops, by purchasing a Chesapeake Bay license plate.
Registration information is provided below. Due to the nature of the workshop, participation is limited to adults and kids ages 16 and up. Space is limited to 15 per workshop so please register early to secure your spot. One registration per household, please. Fees are due at the time of registration through PayPal. Cash and check will not be accepted.
Download the event flyer to share with a friend, coworker, or neighbor! We'll see you this fall!
Newport News

Wednesday, October 9, 2019 – registration closed

6:00 PM

Denbigh Community Center

15198 Warwick Boulevard, Newport News

Chesapeake

Saturday, October 26, 2019 – registration closed

10:00 AM

Deep Creek Recreation Center

2901 Margaret Booker Drive, Chesapeake