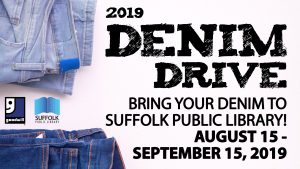 Bring your denim to Suffolk Public Library! The drive will collect denim items from jackets to jeans of any color.
Goodwill will provide a cash prize to the Friends of the Suffolk Library for every pound of denim collected. Goodwill will then re-sell or recycle the denim to support its mission of providing workforce development services to help people secure and maintain sustainable employment.
CHUCKATUCK LIBRARY (Closes at 5pm Tues – Fri. Closed Saturday.)
5881 GODWIN BLVD. | SUFFOLK, VA 23432
MORGAN MEMORIAL LIBRARY
443 W WASHINGTON ST. | SUFFOLK, VA 23434
NORTH SUFFOLK LIBRARY
2000 BENNETTS CREEK PARK RD. | SUFFOLK, VA 23435
Library hours: https://www.suffolkpubliclibrary.com/158/Library-Locations-Hours
There will also be a collection box at the front desk of Lake Prince Woods – Retirement Community in Suffolk, Virginia. The front desk is open Monday – Friday, 8 am to 7 pm. Saturday 9 to 7 and Sunday 10 to 6.