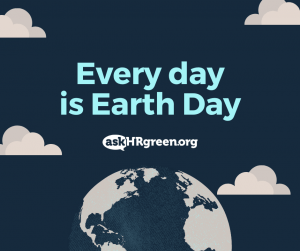 April 22 has been recognized nationally as Earth Day for the last 50 years. Earth Day is meant as a time to reflect on where we've been and where we're heading when it comes to this spinning piece of rock we call home. We face different problems today than we did in 1970, but in some ways they are still the same. Today our cars are more efficient. Our rivers and air are more closely monitored for pollution than they were in 1970.  And generally speaking, most citizens of the world have a better understanding about the impact their daily choices have on the greater environment. But for all that's been accomplished, there's still much to be done. Globally, we share common problems. Where will our trash go, and how can we reduce our consumption? How do we protect water quality to ensure access to clean drinking water for generations to come? How can we better live in harmony with the Earth?
askHRgreen.org may not have all the answers, but we do know that acting locally while thinking globally can make a big impact. With an eye on the bigger issues of the world, we challenge Hampton Roads residents to celebrate Earth Day 50 by completing at least 50 environmentally-friendly tasks during the month of April. There are hundreds of small ways you can make a difference on any given day. To us, that's what Earth Day is really all about. These small acts matter and they do add up.
Pick 50 tasks to complete during the month of April!
Go plogging (picking up litter while jogging).

Pick up your age in pieces of litter. (

For example, if you're 10, pick up 10 pieces of litter.

)

Add dog waste bags to a neighborhood pet waste station.

Create a work of art or a useful new household item using repurposed items (all the pinterest inspiration here).

BYO (bring your own)…reusable coffee mug/insulated beverage container to your favorite coffee shop for a fill-up.

BYO…reusable water bottle along with you to work, school, or some other activity.

BYO…reusable take-out container with you for leftovers when you go out to eat.

BYO…reusable bag along with you on a shopping trip.

BYO…reusable produce bag to the grocery store.

BYO…reusable straw with you when you go out to eat.

Become a Bay Star Home or Bay Star Business.

Share your favorite go green tip with friends on social media.

Visit a professional car wash instead of washing your car on the street.

Declutter your home and donate unneeded items to a local secondhand store.

Participate in a public environmental event or project during the month of April.

Share a selfie with your favorite reusable mug, cup, or water bottle. Tag @askHRgreen

Share a selfie from your favorite outdoor spot in Hampton Roads then tell us why it's worth protecting. Tag @askHRgreen

Skip the straw. Tell your server, "No straw, please," the next time you eat out.

Plant a native tree or plant. Need ideas? Review the Native Plants for Southeast Virginia Guide. 
Pet owners, take the "Scoop the Poop" pledge and always pick up after your pet.
Recycling self-audit. Use the new recycling look-up tool to double-check what's acceptable in your municipal recycling program and then make sure that you are not are "wishful recycler."

Read

The Lorax

or another environmentally-themed book of your choice.

Write an Earth Day poem.

Check your faucets and plumbing fixtures for leaks. If you find one, fix it! Here are some tips on finding and fixing those pesky leaks:

https://askhrgreen.org/gtk-gtd/water-leaks-finding-fixing/

Create a pledge board: at work, school, or your place of worship. Leave post-it notes there so that people can write down the activities that they pledge to do for the environment.

Switch all of your paper bills over to e-bills if the provider offers that option.

Replace inefficient incandescent light bulbs with efficient CFLs or LEDs.

Install a programmable thermostat to save energy and money.

Reduce or eliminate your use of a garbage disposal

Recycle old electronics you've been holding on to but no longer use.

Pack a waste free lunch by using only reusable containers, cutlery, water bottles, etc.

Form a "green team" at your office/school/place of worship to find cost-effective ways to conserve resources and promote sustainability.

Organize with friends, neighbors, coworkers or classmates to hold a community cleanup around your home, office, or school.
Shop secondhand stores first when you are in need of new clothing or household items.

Join a local park, river or beach clean-up.

Bike or carpool to work or school.

Spend one hour in nature.

Take a walk or hike outside.

Visit one of the many environmentally-focused attractions in Hampton Roads such as Bluebird Gap Farm, Virginia Aquarium, Virginia Institute of Marine Science, Virginia Living Museum, or the Virginia Zoo.
Visit a local park you haven't visited before. Recommendations: First Landing State Park, Back Bay National Wildlife Refuge, Great Dismal Swap, Sandy Bottom Nature Park, Newport News Park and more!

Go ahead, hug a tree.

Build a rain barrel.

"Adopt" your neighborhood storm drain or the ditches around your home by sweeping or raking up leaves, dirt and debris.

Turn off the water when you brush your teeth.

Give up disposable wipes — even so-called flushable wipes are not sewer safe.
Challenge yourself to take a 5-minute (or less) shower. If you're already fast in the shower, give navy showers a try.
Replace paper towels with washable dish clothes and napkins.

Unplug devices when not in use to decrease "standby" power usage.

Turn off lights when you leave a room.

Swap your packaging. Grocery shop with the end point in mind and select only products in biodegradable packaging or containers accepted for recycling where you live.

Adjust your home's heater down a degree (or air conditioner up a degree).

Participate in Meatless Monday or go vegetarian/vegan for at least one day.

Go zero waste for one day — it's harder than you think.

Add a pollinator-friendly plant in your yard to help support butterflies or bees. (see #12 above)

Get a soil test to find out if you can skip lawn fertilizer.

Use a watering can or a hose with an on/off nozzle when watering plants.
Opt out of junk mail. Visit the Federal Trade Commission to learn how.

Share a #trashtag on social media. Trashtags are before and after pictures of a litter cleanup.

Check-in on social media at a local park or conservation attraction. (see #29 & #30 above)

Follow askHRgreen.org on social media and tell us how you are celebrating Earth Day 50.

Look up watersheds you visit on a daily basis (home, work, school).

Follow your local watershed restoration group on Facebook or Instagram.