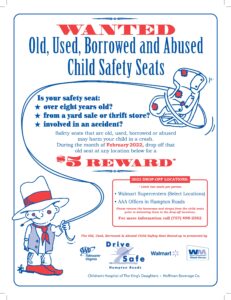 During the month of February, parents and caregivers are encouraged to "round-up" their old, expired, recalled, or damaged car seats for safe disposal and recycling. There are possible dangers from using car seats that are over eight years old, have been purchased from a thrift store or yard sale, have parts missing, or have no traceable recall information. To get potentially unsafe car seats off the streets, local partners will offer a $5 gift card for old car seats returned to participating Walmart or AAA Hampton Roads locations during February. All car seats will be recycled which provides the added benefit of a greener alternative for disposing of unwanted or unsafe car seats.
Is your car seat:
over eight years old?
from a yard sale or thrift store?
involved in an accident?
If so, you're encouraged to consider replacing your car seat with a safer model. The extra $5 off can help! Find a drop off location at here.
Drive Safe Hampton Roads would also like to remind parents and caregivers that Virginia law requires all children under the age of eight to be properly restrained in an approved Department of Transportation (DOT) child restraint. For over 33 years, Drive Safe Hampton Roads has been dedicated to preventing crashes, injuries and fatalities on the region's roadways. The car seat roundup is made possible by Drive Safe Hampton Roads, along with Walmart, AAA Tidewater Virginia, Hoffman Beverage, Children's Hospital of the King's Daughters and Waste Management of Virginia, Inc.