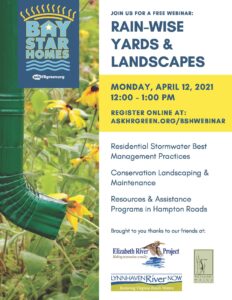 askHRgreen.org invites Hampton Roads residents to join us for a free lunch and learn webinar on April 12th at noon to explore the benefits of rain-wise landscaping practices. Hampton Roads is defined by water so it's important for all homeowners in Hampton Roads to reduce the amount of polluted stormwater produced by our homes on a rainy day. From simple DIY techniques to proper maintenance of an existing practice, there is something for everyone to learn from this informative session.
askHRgreen.org will be joined by local experts from Elizabeth River Project, Lynnhaven River Now, and Wetlands Watch to discuss various stormwater management practices. You'll learn about basic stormwater management practices, installation and maintenance requirements, and what local assistance programs are available to help you install these important features in your yard. There will also be time for a Q&A session at the end so come prepared with all your stormwater management questions for the experts to tackle.
Participants will learn about:
Problems from inadequate stormwater management
Common stormwater management practices that work well here in Hampton Roads
How to add conservation landscaping elements to your landscape design
Maintaining stormwater management practices so they can work effectively
Local assistance programs to help you get started with upgrades to your yard
This webinar is free and open to the Hampton Roads public. Register now!
This webinar is sponsored by the askHRgreen.org Bay Star Homes program. Learn more about how homeowners can help improve and protect water quality in Hampton Roads at askHRgreen.org/BayStarHomes