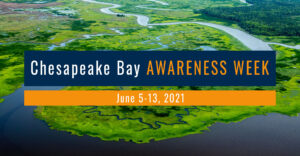 askHRgreen.org is proud to join organizations across the Chesapeake Bay watershed to recognize Chesapeake Bay Awareness Week, June 5-13. Chesapeake Bay Awareness Week is a time to appreciate the cultures, history and natural beauty of the nation's largest estuary. At askHRgreen.org, we're taking this time to celebrate the many ways we are connected to water here in Hampton Roads. Whether it's the food we eat, the places we swim, or simply the backdrop to our daily life, the Bay is vital to our region and there's so much we can each do to keep it thriving.
Today, the Chesapeake Bay watershed is home to 18 million people and spans more than 64,000 square miles, encompassing parts of six states—Delaware, Maryland, New York, Pennsylvania, Virginia and West Virginia. In Hampton Roads, you're always just a 15 minute walk away from a waterway that connects to the Chesapeake Bay. Big tributaries to the Chesapeake Bay in Hampton Roads include the James River and the York River and also smaller rivers like the Nansemond River, Elizabeth River, Lynnhaven River, and Back River. This means you don't have to live on the water for your choices to have a big impact on the health of the Chesapeake Bay and it's tributaries. Decisions we make on a daily basis have a direct impact on the health of the Bay and our quality of life in Hampton Roads.
Join us all week on Facebook as we highlight ways to learn about, enjoy, and care for the Chesapeake Bay in celebration of Chesapeake Bay Awareness Week!