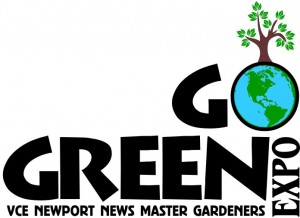 What shade of green are you? A light shade or a deep shade? Or perhaps you're not green at all. HR GREEN invites you to get green with us. Not the kind of green I was after a ride on the "Tilt-A-Whirl" many years ago, the kind of green you become when you chose to be environmentally informed.
The Peninsula's premier sustainability event, the "GO GREEN EXPO" will be held on Saturday, September 24th, from 10:00 a.m. to 4:00 p.m. at the Brittingham Midtown Community Center in Newport News. The event is sponsored by the Virginia Cooperative Extension and the Newport News Master Gardener Association.
Want to know about native plants? Drought tolerant plants? Fall lawn care? Container gardening? Composting? Want to build your own rain barrel and take it home? Want to speak to an expert about plants, recycling or efficient water use? The "Go Green Expo" is for you. There will also be a kid's corner, food vendors, and garden tool sharpening available.
It's free. Newport News Waterworks will be there . . . with a watering can in one hand and a rain gauge in the other. We'll be happy to answer your questions about indoor and outdoor water efficiency, tap water quality and the value of water. If you want to build your own rain barrel, call (757) 591-4838 to register (we provide the parts, you pay $40 and take the rain barrel home). For more information and directions to the "Go Green Expo," visit the Newport News Master Gardeners web site at www.nnmastergardeners.org. See YOU there!