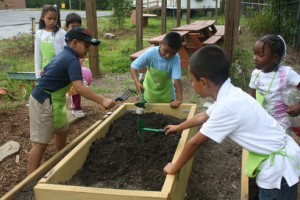 Green Education Foundation (GEF) and Gardener's Supply Company have teamed up to offer an exciting funding opportunity for established youth garden projects nationwide! The Green Thumb Challenge Grant is designed to support the continued sustainability of an exceptional youth garden program that has demonstrated success, and has impacted the lives of kids and their community.  The grant calls on schools and youth groups to submit chronicles of their garden projects in a race to win the $5,000 prize. Green Thumb Challenge participants should submit a completed Grant Application and Contest Disclaimer along with at least one of the following, or a combination:
An overview describing your garden project
One video – up to ten minutes long
A digital portfolio – comprising up to ten photos with captions
Scanned artwork with descriptions
Check out last year's winner, Closer To Earth, a non-profit which engages at-risk youth in organic gardening.
To apply to be the next Green Thumb Challenge Grant winner, send GEF your materials by September 30th, 2011.
Happy gardening and good luck!!