The Great American CleanupTM National Action Days were a huge success thanks to all our volunteers and sponsors!

Through the partnership of askHRgreen.org and Keep Virginia Beautiful, Hampton Roads was selected as one of 10 national locations for Keep America Beautiful's 2012 Great American CleanupTM National Action Days. The Great American CleanupTM is the largest grassroots community involvement program in the United States. The launch of the Hampton Roads cleanup events, April 27-28, represented the only designated event  in Virginia and involved over 1,000 volunteers transforming local parks, waterways and recreational areas into cleaner, greener environments.
What was it all about?
For our 2012 National Action Days,  Hampton Roads localities hosted and organized individual "transformational" community improvement projects that involved the help of 25 or more volunteers per project, for a half day of work. The idea is to connect Hampton Roads volunteers with projects that are meaningful to their community. Hampton Roads corporations and businesses were also invited to form their own cleanup teams to work on projects as a group. In addition, community and environmental leaders applied to spearhead their own projects.
The Event
The Hampton Roads cleanup events began Friday, April 27 in the morning with corporate and military command teams working side-by-side with local volunteers to perform cleanup projects at community based sites throughout the region. That evening at the Virginia Zoo in Norfolk, event organizers hosted a "#Green Starts Here" celebration to thank state dignitaries, local elected officials, military leaders, volunteer team leaders, community leaders, and corporate sponsors for all they do to keep Hampton Roads beautiful. On Saturday, April 28, more volunteer teams mobilized and dispersed and pitched in across the region.
Results
1,781 Volunteers 
92 Sites 
13 Participating localities
48 Corporate/military/neighborhood groups 
124,862 Pounds of litter/debris
86 Trees planted 
818 Plants & shrubs planted
248 Structures painted
Removal of invasive species
515 pounds of household hazardous waste collected
Construction of bear playground for the Virginia Zoo
Landscaping of shelters
Plastic bag recycling and distribution of reusable bags
Download the final report.
A Big Thank You to our Sponsors!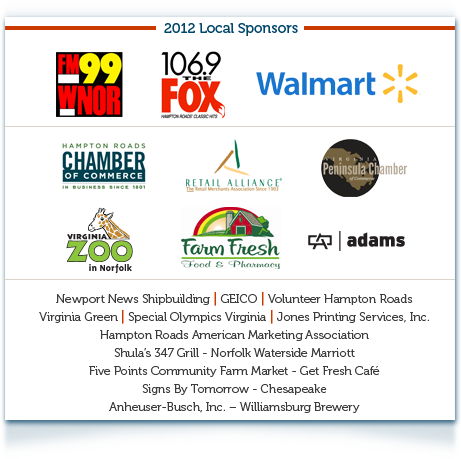 .