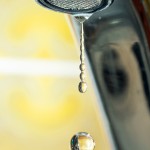 This Thanksgiving I have so much to be thankful for. I got married, my husband and I adopted two of the sweetest (and most adorable) puppies in the world, and our family is healthy. However, it's during this time of year that I'm also reminded of how important the little things can be…things that we often take for granted. We live in a world where over a billion people are without access to safe, clean drinking water. Each year, an estimated 3 million people worldwide die from preventable waterborne disease. Yet, here in Hampton Roads, we can drink from any public tap with the highest level of confidence. We never have to think twice about the quality of the product that comes out of our taps and we have hundreds of talented and dedicated people working to make sure that we'll continue to have plenty of safe, reliable water to support our needs for years to come.
We don't often stop to consider the value of tap water, but it plays an important role in our everyday lives. Tap water delivers public health, support for our economy, protection from the threat of fire, and the overall quality of life we enjoy as residents of Hampton Roads – all at an affordable price. For about the cost of one case of bottled water, you can buy more than 1,000 gallons of clean, safe, reliable tap water. What a value…now that's something to be thankful for! As you gather around the table on Thanksgiving, take a moment to think about all the water that went into preparing that meal and how lucky we are to have such a precious resource at our fingertips 24 hours a day, 7 days a week, 365 days a year.
Happy Thanksgiving!
P.S. Have you heard the HR Green turkey talking on the radio about how to properly dispose of your fats, oils, and grease this holiday season? It's so cute I have to share it. Click here to listen if you've missed it.