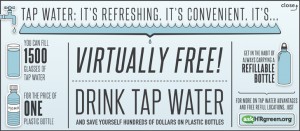 For more than 35 years, the American Water Works Association has celebrated Drinking Water Week, a unique opportunity for water professionals and the communities they serve to join together to recognize the vital role water plays in our lives. This year, Drinking Water Week is May 6th through 12th and we're celebrating by inviting Hampton Roads citizens to Take Back the Tap! We have access to safe, clean, tap water whenever we need it, so let's celebrate by choosing tap over expensive bottled water alternatives.
All week long, the askHRgreen trailer will be staging Take Back the Tap events at various locations across Hampton Roads. We'll be giving away FREE reusable water bottles and encouraging all residents to be good stewards of the environment by decreasing reliance on bottled alternatives. Join us at one of these locations near you from 11:00 AM to 3:00 PM:
Sunday, May 6th – Landstown Shopping Center in Virginia Beach
Monday, May 7th – Greenbrier Parkway Buffalo Wild Wings in Chesapeake
Tuesday, May 8th – Harbour View Kohl's in Suffolk
Wednesday, May 9th – MacArthur Light Rail Stop in Norfolk
Thursday, May 10th – City Center at Oyster Point in Newport News
Friday, May 11th – James City/Williamsburg Community Center in Williamsburg
Saturday, May 12th – Peninsula Town Center in Hampton – There will also be a plastic bag exchange at this location so bring your old plastic bags for recycling and trade them in for a reusable bag from askHRgreen.org!
TapIt Hampton Roads!
askHRgreen.org is also excited to launch TapIt Hampton Roads during Drinking Water Week 2012. TapIt is a water bottle refilling network that allows you to fill your reusable bottle on the go. Simply take your reusable bottle into any of our partner cafes and fill it up with clean tap water for FREE! TapIt's GPS locator shows you the closest places to fill your bottle based on your current location. Download the FREE iphone app here.
Isn't it time we take back the tap to protect our wallets, our heath and our community? Help prevent pollution and decrease waste by choosing tap over bottled water and show your appreciation for the value and vital role of drinking water by supporting public infrastructure so we can continue to enjoy clean, safe, affordable tap water for generations to come!