Deciding to buy a greenhouse catapults the novice gardener into the big leagues. Even a small model provides the space and the conditions to extend the gardening season and try new techniques, such as starting seeds early, that just are not possible in most gardens. Here are four questions to ask yourself when deciding on a greenhouse that meets your needs.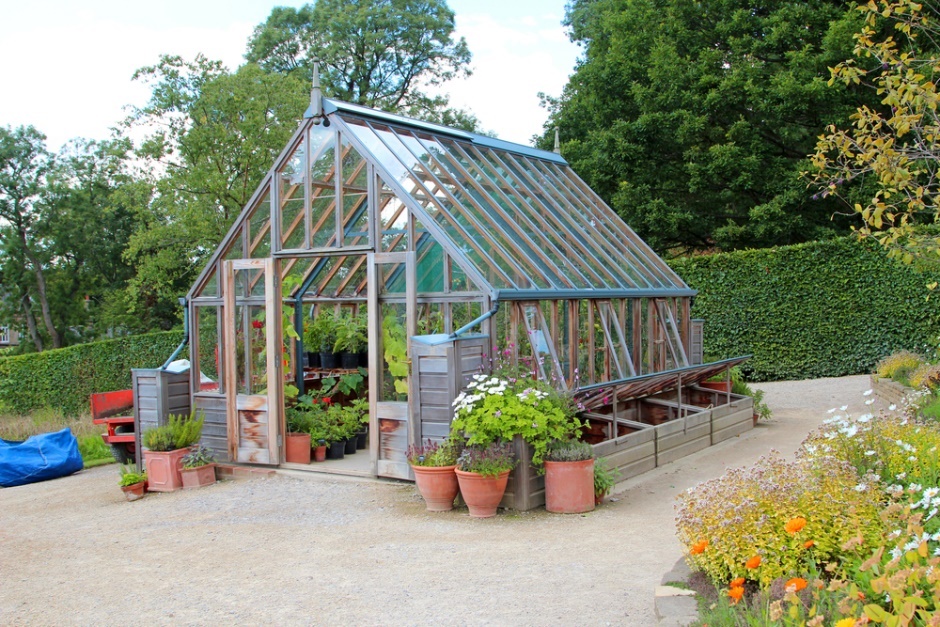 1.       How will I use the greenhouse?
The answer to this will help determine the size and the features you may want. Walk-in greenhouse kits designed for residential use range in size from 5×5 feet up to 8×20 feet. You can find smaller, portable kits for about $100, but more permanent kits can cost from several hundred up to several thousand dollars, depending on the size and features.
Smaller models are great for getting a jump on spring planting by starting seeds early, but if you want to grow plants to maturity, you will need a bigger model. Your plans for the greenhouse will also determine the "extras" you will need (see below). Of course, you will have to balance your gardening needs with your budget and the available space for constructing the greenhouse.
2.       Where will I put it?
If you plan on growing plants to maturity or using the greenhouse over the winter, you will want maximum sun exposure—at least six hours a day. It's best to situate the greenhouse so that its longest dimension faces south, which means most of the space will receive direct sunlight. This is especially true in the winter when the sun appears lower in the sky.
Select a spot that is convenient to get to and has access to water. You may also want access to electricity.
Before you purchase a greenhouse, check with the local building department to ask about zoning requirements, such as how close you can erect the greenhouse to the property line, and whether you need a building permit. In some locales, any structure on a foundation requires a permit, and some kits require a concrete slab or a wooden foundation.
3.       What are my options in materials?
Greenhouse frames are available in a number of different materials:
Aluminum and galvanized steel. These provide the strongest greenhouses, but they are the most expensive.
PVC pipe. These don't provide the structural heft of an aluminum or steel frame, but they are relatively inexpensive. PVC structures are often used for portable greenhouses.
Wood. These provide a rustic, classic look and are usually made of insect-resistant woods such as redwood or cedar. Be aware that wood components will require periodic sealing or staining.
While glass may be the traditional glazing material, greenhouse kit manufacturers are now turning to plastics such as polyethylene and polycarbonate panels because they are lighter and easier to handle. Polycarbonate panels can provide either direct sunlight or diffused light to the plants. They also come in a variety of thicknesses, making them a better insulator than glass. Look for panels that are treated to block the ultraviolet rays of the sun.
4.       What extras will I need?
There are a lot of extras available to make your gardening experience more enjoyable:
Shelves and benches. Some kits come with shelves, but not all do. They make caring for plants easier. Make sure the frame can support the shelves and the plants.
Ventilation. Greenhouses get hot, so you will need at least one operable vent in the roof. Some kits feature vents that open automatically when the greenhouse becomes too hot. Larger models can accommodate ventilation fans.
Watering system. You can pull the garden hose into the greenhouse to water the plants, but automatic watering and misting systems are available. Some greenhouses include gutter systems that allow you to collect rainwater.
Heaters. Greenhouses placed in cold climates will need a heater for year-round use.
Sensors and controls. Keep the greenhouse functioning properly with controls that track the temperature and humidity levels and can automatically operate watering and ventilation systems.
A greenhouse kit can enhance your gardening experience, and the right kit will provide years of gardening pleasure.
Fran Donegan writes on home improvement for Home Depot. Fran is a longtime DIY author and has written several books, including Paint Your Home.