Spring activities took off in a dead sprint this year. Have you seen our calendar listings lately? Here's a preview of this weekend's Great American CleanupTM and Earth Day events. Which ones will you check out?
Saturday 4/20
Sunday 4/21
Do you still need some inspiration to get you energized to join a project? Here are a couple summaries from recent events.
Virginia Beach
The City of Virginia Beach, with the help of over 125 local volunteers, collected waste and debris from the 17th Street Corridor near the oceanfront on Saturday, March 23, as part of Keep America Beautiful's Great American Cleanup (GAC). GAC is the country's largest annual cleanup, beautification and community improvement program, drawing millions of volunteers in over 15,000 communities each year. This year, Virginia Beach volunteers worked at the wooded lot between 17th Street and 19th Street, beside North Birdneck Road. They removed more than 350 bags of trash plush bulky items, totaling nearly 5 tons of waste and debris.
The enthusiastic response did not stop there as many of our residents took the city's Community Challenge and organized cleanups of their own in their neighborhoods. For example, members of Knights of Columbs Kempsville Council 10515 completed cleanup of Kempsville Road from Indian River Road to Centerville Turnpike, and Candice Nesbitt organized a cleanup for Sangaree Circle.
This 2nd annual event was a multi-departmental initiative coordinated by the Departments of Public Works, Parks and Recreation, Housing and Neighborhood Preservation, Police, Human Services, and the Office of Volunteer Resources. The city worked with Virginia Beach Clean Community Commission, askHRgreen.org, Keep Virginia Beautiful and Keep America Beautiful to continue building an even cleaner, more sustainable city.
Information submitted by Linda Minner, City of Virginia Beach Recycling Coordinator and askHRgreen.org team member.

Newport News
On a rainy Friday, April 12 2013 some 50 employees of Crestline Hotels and Resorts set out to conduct a community service clean up in conjunction with the Great American Clean Up. They spent over 3 hours and removed over 60 bags of litter and debris from the wooded areas surrounding City Center in Newport News. Crestline hotels has facilities from Stanford Connecticut to Jacksonville Florida. They came to Newport News as part of an annual management conference for staff. The Hosting facility this year was the Marriott at City Center in Newport News, one of our first hospitality facilities to achieve Virginia Green Status.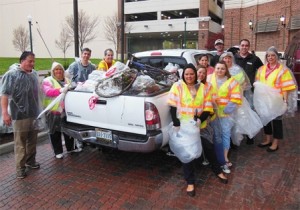 Their Hotels locally including the Marriott at City Center in Newport News have embraced recycling and sustainability boasting recycling and the use of recycled materials in their facilities and practices. They are working with the Newport News Resource Recovery office to develop system wide approaches to better handle waste, recycling and using more recycled products in their facilities.
The hours of dedicated work on a rainy day by so many people speaks volumes about our partnership with Crestline hotels and Resorts and their commitment to the community.
Information submitted by Dan Baxter, Business Recycling Coordinator for the City of Newport News and askHRgreen.org team member.