Plug Into America Recycles Day by Dropping off Your Old Electronics
Electronics Recycling Events planned for Nov. 15, 16 in Hampton Roads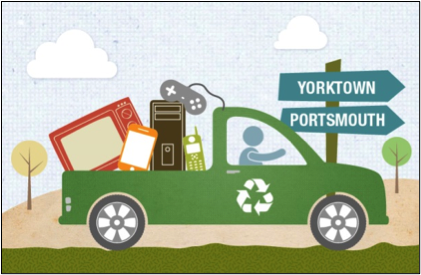 (Hampton Roads, Oct. 11, 2013) — It's October, and you know what that means—holiday promotions are well underway with ads touting the newest phones, the latest gadgets and shiny PCs all aglow. If an upgrade is on your wish list—and you seek a second life for your old devices—join askHRgreen.org for two free electronics recycling and paper shredding events to be held:
Friday, Nov. 15, 2013 | 10 a.m. – 2 p.m.
Lowe's Parking Lot, 4040 Victory Blvd, Portsmouth, VA 23701
Saturday, Nov. 16, 2013 | 10 a.m. – 2 p.m.
York County Sports Complex, 4311 George Washington Memorial Highway, Yorktown, VA 23692
The events will be held in conjunction with America Recycles Day, a national initiative by Keep America Beautiful, and co-presented by VersAbility Resources. Residents and businesses may bring up to one pickup truck full of electronic devices to be recycled. In addition, safe and secure free document shredding will be available courtesy of Stealth Shredding.
"Don't throw your old electronics out with the trash," said Julia Hillegass, askHRgreen.org team leader. "Proper electronics recycling is paramount because electronics contain hazardous waste that can be released into the air, soil and water, causing health and environmental risks. Bring your electronics to one of these events, and we'll take care of it for you."
The following items will be accepted:
Cell phones
Circuit Boards
Computers/CPUs
Computer monitors
Computer peripherals (mouse, speakers, etc.)
Consumer electronics (DVD players, alarm clocks, etc.)
Documents
Electric cords and wiring
Fax machines
Home and office phones
Household appliances
Keyboards
Printers
Stereos
Telephone equipment
Televisions
VCRs
The following items will not be accepted:
Any unit with sludge or liquids
Cassette tapes
Compact fluorescent light bulbs
Household hazardous waste
Large appliances (refrigerators, stoves, washer dryers, etc.)
Smoke alarms and detectors
VHS tapes
Electronics from the events will be taken to VersAbility (formerly The Arc of the Virginia Peninsula), where employees with disabilities will disassemble the equipment into various parts. From there, the equipment will be shipped to manufacturers that will re-use the working parts and repurpose the recycled goods into new products. For more information about all things green in Hampton Roads, visit askHRgreen.org.
Good to Do: Don't throw your electronics in the trash!
If your computer works and is less than five years old, donate it to The National Cristina Foundation, a non-profit that works with companies and individuals to donate computers and other technology to charities, schools and other public agencies.
To recycle your old computer, take it to VersAbility Resources, where individuals with disabilities earn wages by disassembling computers and keeping tons of waste and harmful materials out of landfills.
•If your electronics are old or broken, take them to a local e-cycling event. askHRgreen.org partners with Cox Communications to promote where Hampton Roads residents can drop off unwanted electronics for recycling.
About askHRgreen.org
askHRgreen.org is your go-to resource for all things green in Hampton Roads— from recycling tips and pointers for keeping local waterways clean to water-saving ideas and simple steps to make local living easy on the environment. Launched in 2011, the region-wide public awareness and education campaign is administered through the Hampton Roads Planning District Commission and powered by the following members: The cities of Chesapeake, Franklin, Hampton, Newport News, Norfolk, Poquoson, Portsmouth, Suffolk, Virginia Beach, and Williamsburg; the counties of Gloucester, Isle of Wight, James City, Southampton, Surry and York; and HRSD. Like askHRgreen.org on facebook, follow on Twitter, tune in to YouTube and catch the "Let's Talk Green" blog, written by a team of local experts.