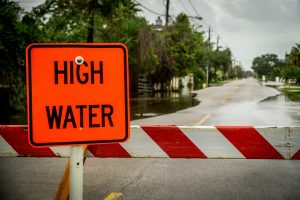 Hurricane Florence continues to stalk the southeastern U.S. and, if you're like me, you're anxious about what this storm has in store for Hampton Roads. Hurricane Florence is predicted to be a storm of historic strength devastating the area around landfall. A storm of this size will have wide-reaching impacts far beyond the area of direct impact and now is the time to get prepared. Hampton Roads may experience high winds, heavy rainfall, and coastal flooding beginning Wednesday and continuing into the weekend. And while we anxiously wait for the definitive track, all we can do is prepare. You can never be over-prepared but you can certainly be unprepared. Spend the next day checking off these hurricane readiness tasks while we all wait on Hurricane Florence:
Check Your Emergency Supplies – Make sure you have the following items on hand in the event of prolonged outages of utility services: batteries, bottled water, flashlights/lanterns, easy to prepare meals, ice, activities for the kids, food for the "furry" kids and any medical care items you or your family may require. And gas for your generator if you happen to be so lucky!
Know Your Zone. If you know where you are, then you'll know when to go. Use KnowYourZoneVA.org to find your evacuation zone and listen for updates regarding voluntary and mandatory evacuations in your area.
Clear Gutters and Ditches – Clear away vegetation, litter, tree branches and yard debris frohttp://knowyourzoneva.org/m any ditch, channel, storm drain, etc. on your property. This will help the rain flow freely into the stormwater system.
Secure Loose Items – Look around your yard for any item that may fly or float away and move it to a secure location. Loose items that float off into flood waters will worsen flooding by clogging drainage systems. If there are wind gusts, loose items may also be dangerous projectiles that can endanger people and property.
Trim Your Trees – Cut back trees and remove any weak or dead branches that could pose a threat to your (or your neighbor's) home.
Shelter Your Waste/Recycling Containers – Secure your trash/recycling containers indoors (i.e. garage, shed, etc.) to prevent trash from entering the stormwater system. If you are unable to secure the containers inside, attempt to weight the bottom of the receptacle and secure the top with a bungee or duct tape.
Prepare for Rising Flood Waters – If you live in a low-lying area, begin moving important belongings off the ground in flood-prone areas of your home or garage. In addition to your personal belongs, move hazardous household chemicals off the ground to prevent them from spilling into flood waters. Examples include motor oil, gasoline and lawn chemicals typically stored in your garage or shed.
Tune Into Local Emergency Communications – Your city or county will be providing a lot of information regarding city services during the storm. For important updates and news regarding closures, suspension of municipal services, shelter locations or evacuation requirements, please check in with your locality often. Don't rely on wifi or cell phones for your communications. Use a landline or battery operated radio to stay connected.
Stay safe Hampton Roads!