Is what youknow, what you need to know?
The experts at askHRgreen.org get asked lots of questions from residents of Hampton Roads who want an easier, greener lifestyle. But lately we've turned the tables and asked residents a few questions of our own. We hit the streets and asked "What Do You Know?" about various topics related to the environment and got a wide range of responses. But when the real answers were revealed, many people were pleasantly surprised. How would you have responded? Test your know-how against other residents by watching the videos below.
Contact Us
Sadly, we can't provide public access to download our videos. If you'd like a video file to use, you can make a special request by using our contact form and putting "Video Request" in the subject line.
What Do You Know About Water?
What Do You Know?Water: Part One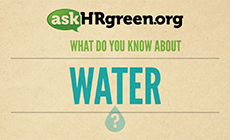 What Do You Know? Water: Part One
What Do You Know?Water: Part Two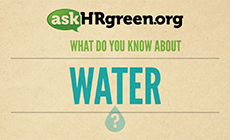 What Do You Know? Water: Part Two
What Do You Know?Water: Part Three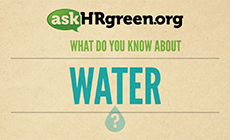 What Do You Know? Water: Part Three
Legal
Unless otherwise noted, all material on this site is copyrighted by askHRgreen.org with all rights reserved and is protected by the copyright laws of the United States. We encourage the use of these materials; however, we request that they be used in tact and without change. All content has been written and reviewed by experts at askHRgreen.org which is comprised of the following member localities and agencies: the cities of Chesapeake, Franklin, Hampton, Newport News, Norfolk, Poquoson, Portsmouth, Suffolk, Virginia Beach and Williamsburg; the counties of Gloucester, Isle of Wight, James City, Southampton, Surry and York; the town of Smithfield and the Hampton Roads Sanitation District.
The askHRgreen.org logo and all other marks, logos, characters, designs and trade dress are trademarks of askHRgreen.org. All rights reserved.
^ Back to Top