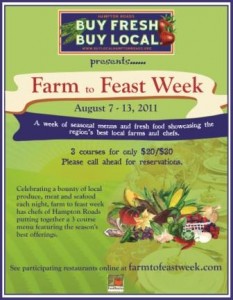 If you're a hardcore locavore like me, you'll be thrilled to see area restaurants embracing the freshest local produce in their menus this week for Farm to Feast Week!  While many of the participating restaurants pride themselves on using as many local ingredients as possible year 'round, sometimes it is a good idea to remind Hampton Roads that we have bountiful, thriving agriculture right here.  Check out the Buy Fresh Buy Local website to see which restaurants are participating this year.  If your favorite isn't on the list, see if you can't persuade them to join in the epicurian excitement next time.
Eating local not only supports small local farms, but it also reduces your carbon footprint, improves the quality of your diet and is an all around greener alternative than processed and packaged foods.
To take home more local flavor and make your own locavore feast at home, visit the askHRgreen.org events calendar for a Farmers' Market near you.  Most localities have markets every week through Labor Day and then more randomly for seasonal produce.  So celebrate Hampton Roads Farm to Feast Week and gobble up your inner green!