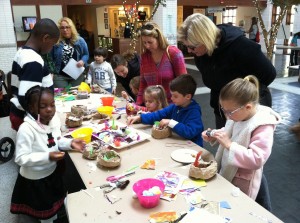 If you're looking for a fun activity for the whole family this weekend, there are plenty of options here in Hampton Roads. One of them happens to be Family Fest at the Virginia Museum of Contemporary Art (MOCA) in Virginia Beach. Bring the family out on Sunday, April 27, from 2:00 pm – 4:00 pm for a little art and a lot of fun!
It will truly be a feast for the senses as you celebrate Earth Day and artist Vik Muniz with MOCA! Create your own chocolate syrup and sugar art (just like Vik!) and enjoy the current exhibits one last time with a gallery scavenger hunt and group collage. Refreshments will be provided and the event is FREE and open to the public.
Your friends here at askHRgreen are even getting in on the fun this weekend. We'll have our education trailer on location for MOCA's Family Fest and the first 100 families to bring 5 plastic grocery bags or wraps to turn in for recycling will receive a FREE reusable shopping tote (pictured here)!