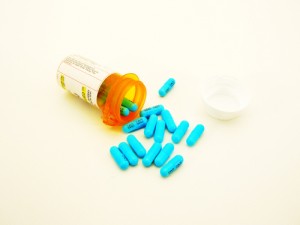 Tomorrow is National Drug Take-Back Day so it's time to clean out those medicine cabinets! And when you do, I'm willing to bet you'll find more than one expired or unwanted medication. Safely getting rid of unwanted/unused medications is good for several reasons. It ensures that those medications won't fall into the wrong hands and that they can't harm the environment if disposed of improperly (like being flushed down the commode).
You can take advantage of the National Drug Take-Back initiative on Saturday, April 29, from 10 a.m. until 2 p.m. Local police and Sheriff departments, along with the Drug Enforcement Administration (DEA), will be collecting expired, unused, and unwanted prescription drugs for destruction.
You can easily find a medication collection site near you using the DEA's online collection site locator. Simply put in your zip code or city/state and voila!
Why can't we just flush medications down the toilet? 
For most of us in Hampton Roads, our wastewater flows to HRSD's treatment plants where it is treated before it is released back into the environment. However, the treatment process cannot remove medications, it was never designed to do so. That's why it is so important we dispose of medications responsibly, like participating in the National Drug Take-Back Day. If you can't make it out to a collection location tomorrow but you have medications to get rid of, DEQ has published this handy guide for disposal of home pharmaceuticals with step-by-step instructions.