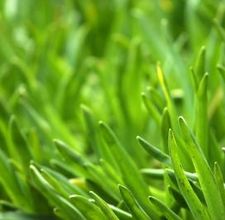 With all the summer heat and rain my St Augustine grass is thriving this year! And if you are like me you want to be very efficient while out in our recent record breaking temperatures…so that is why I have started leaving my grass clippings in my yard. Which as it turns out is a good thing for my lawn and our waterways!
It's simple…grass clippings left on the lawn will decompose and act as a natural organic fertilizer. This allows me to not add any commercial fertilizer. My lawn will still be healthy and green because each time I mow; I am actually returning valuable nutrients to the soil!
Here are a few easy steps to help get you on your way to a happy, healthy lawn:
Any mower can recycle grass clippings. Simply remove the grass catcher! Ask your lawn mower dealer if a special safety plug or adaptor kit is needed to convert your mower into a "recycling" mower.
Keep your grass mowed to 2″- 3″ tall.
Do not remove more than 1/3 of the grass blade in any single mowing. For example, if your lawn is kept at 2″ tall, it should not be allowed to grow higher than 3″ before it is mowed again.
Mow when the grass is dry.
Keep your mower blade sharp because dull mowers tear the grass blade, injuring the plant, and create a brownish cast to the turf.
If the grass gets just a bit too high, simply mow over the clippings a second time to further shred and scatter them.
If excessive growth occurs between mowings, raise the mower height, mow, and then gradually lower it over a span of several mowings. This will help prevent shock to the plants.
When it's time to replace your mower, consider buying a mulching, recycling, or a non-polluting reel mower. All of these do a good job of shredding and scattering grass clippings.
By letting my grass clipping do part of my lawn care work, I am keeping my waterways free of excessive fertilizers, my storm drains clear of grass clippings, and can get back to enjoying my summer sooner because my yard work is done in half the time! I call this a win-win!