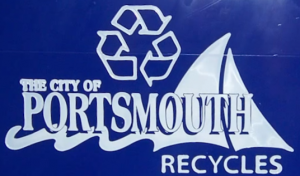 On August 19, a new curbside recycling program will begin in Portsmouth! It has been several years since curbside recycling has been offered. Back then, a bin, about the size of a laundry basket, was used. It was small and did not have a lid. It was awkward to carry, and residents had to sort their recyclables. With our new program, residents that have city trash service will receive a 95 gallon recycling cart with a lid and wheels! Recycling will be collected every other week on citizens' normal trash pickup day. Plastics, paper, aluminum cans, glass bottles and jars can now be placed together inside the cart. There's no need to sort!
Portsmouth will also offer a household hazardous waste collection, electronics recycling and document shredding event on Saturday, August 17 from 9 a.m. – 12 noon at the Cavalier Manor Recreation Center located at 404 Viking Street. We are holding this event prior to the startup of our curbside recycling program to allow residents the opportunity to dispose of household hazardous waste and electronics properly. We do not want household hazardous waste and electronics to be placed inside the recycling carts.
SPSA, RDS Recycling & Disposal Solutions, and Stealth Shredding are partnering with us for this event. We are proud to say, once again, Portsmouth recycles!
For more information call 757-393-8663.
This is a guest post by Donna Corbus, Recycling Coordinator with the City of Portsmouth.