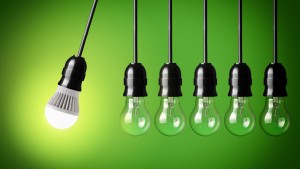 If you have shopped for light bulbs lately, you probably noticed that there are a lot more choices than there used to be. That's because the old incandescent bulb that has been around for 135 years is giving way to newer, more energy-efficient models. Considering that lighting accounts for 10 to 12 percent of the average household's energy bill, switching to bulbs that use less energy makes financial sense, and it helps reduce greenhouse gases.
The driving force behind the change is the Energy Independence and Security Act of 2007. Among other things, the act set minimum energy standards for light bulbs. By 2014, all new light bulbs had to be 27 percent more energy efficient than what was standard at the time.
Bulb manufacturers are meeting the requirements in a number of ways. The old incandescent bulb was paired with halogen technology, so now the bulb produces the same amount of light using less power. The light produced by a 100-watt bulb can now be produced by one using only about 72 watts.
In addition, compact fluorescent (CFL) and LED bulbs cut energy use by 70 to 90 percent over old incandescent bulbs. Plus, they last longer than old bulbs. An incandescent bulb has about a 1,000-hour lifespan, but CFLs and LEDs can last from 10,000 to 20,000 hours. The newer bulbs cost more than the old ones, but the prices have been dropping steadily, and some utilities offer rebates for switching to energy-efficient bulbs. These bulbs also produce 70 to 90 percent less heat than the standard incandescent bulb.
What's with Watts?
Part of the confusion about new types of bulbs is the way we talk about them. Most people equate lighting power with watts. For example, it is common to assume that a 100-watt bulb produces about 40 percent more light than a 60-watt bulb. But that type of thinking misses the point. Watts is a measurement of how much electricity a bulb consumes, not its lighting power. Lumens is the measurement of light output. A CFL that consumes 15 watts of electricity and the LED that uses 10 watts can produce the same amount of light—about 800 lumens—as the 60-watt incandescent bulb. 
Despite the energy savings, CFLs and LEDs were a little slow to catch on. One reason had to do with the way the new technologies rendered colors. They did not provide the soft glow we have come to expect from incandescent bulbs. Some required special fixtures and could not be used in the floor lamps and chandeliers that were already in place.
That has changed. Now they can be used in just about any light fixture, although some should not be used in lamps that are fully enclosed. If the bulb cannot be used in an enclosed fixture, it will be stated clearly on the bulb's packaging. CFLs and LEDs are also now available in everything from "warm," which is the flattering yellowish light of incandescent bulbs, to "cool," which has a bluer tint.
CFLs were on the market before LEDs, but many experts think that LEDs are the lights of the future. They can be used anywhere, including with dimmers, and they are more versatile. LED stands for light emitting diode, so besides providing lamp light to read a book, the lighting elements can be mounted in strips to produce spectacular decorative lighting effects. They can create a soft glow along the ceiling when the strips are mounted behind crown molding, or be hidden under wall cabinets to illuminate a kitchen countertop. This only consumes about one-half to one watt per foot of lighting strip, so besides looking great, it can serve as an inexpensive, low-energy night light.
Don't Forget to Read the Label
Requirements for light bulb packaging can help you navigate the changes in light bulb efficiency. For the present, manufacturers still display the bulbs wattage to help consumers get their bearings. You may see something like "Replacement for 60-watt bulb" with the "60" in large type. That will be followed by the actual wattage of the bulb.
The packaging also lists the lumens, which is the important number for signifying the amount of light produced. You will also find information on estimates on the life expectancy of the bulb, where the bulb falls on the type of light it produces—"warm" to "cool"—and an estimate on the yearly energy costs. All this information will help you make an informed, eco-conscious decision when choosing light bulbs. 
Home improvement expert Fran Donegan has a strong interest in, and writes often about, energy-efficiency and lighting for The Home Depot and is also the author of the DIY book Paint Your