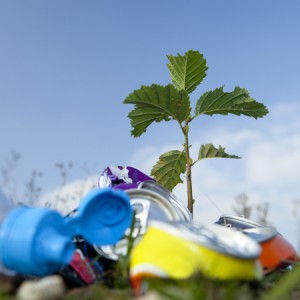 A bill recently introduced to the U.S. House of Representatives aims to increase the national recycling rate by requiring manufacturers to use more recycled materials in their products.
Mike Honda, representing California's 17th District in Silicon Valley, introduced the Land Based Marine Debris Reduction Act of 2014.  It would give the EPA the authority "to require the manufacturer of the product or packaging to use recovered materials of that or another category in the product or packaging."  If enacted, these new regulations would go toward achieving a 50 percent national recycling rate by 2020 and a 65 percent recycling rate by 2030 and lead to reductions in landfilling and littering.
Rep. Honda said "Making people aware of the problem is the first step.  The second is letting people know they can be part of the solution.  By encouraging industry to use more recycled materials, we safeguard the sustainable use of our precious natural resources."
Chaz Miller, the Director of Policy and Advocacy at the National Waste & Recycling Association indicated that this was the first municipal solid waste (MSW) recycling bill to be introduced on the Hill in 20 years.  He said, "It's a statement from Congress to get the U.S. EPA to focus on MSW."
Robin Wiener, President of the Institute of Scrap Recycling Industries (ISRI), said "ISRI commends Congressman Honda for his efforts to keep recyclable materials, including product packaging, out of solid waste landfills and waterways."  "Directing these materials to recycling facilities where they can be recycled into secondary raw materials used to make new products is good for the environment and creates jobs."
The bill, not likely to be taken up until next year, has been referred to the Committee on Energy & Commerce and will likely head to the E&C subcommittee on the Environment and Energy led by Illinois Republican John Shimkus. We'll keep our eye on this bill and keep you updated with the latest developments.