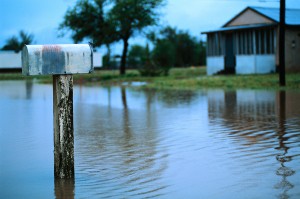 Tropical Storm Arthur may brush up against Hampton Roads Thursday night, but we are all hoping it pushes out in time to keep the rain off our Independence Day celebrations! Now is the time to take action to help protect your property and in some cases your community from the damaging effects of coastal/urban flooding and high winds. As the storm approaches, check in with Ready Hampton Roads for storm updates and get more emergency information from your local emergency office.
Tidy up the Yard – Pick up any loose items in your yard that might fly away in a storm. This will protect your property from damage while also keeping debris from clogging storm drains or becoming litter in a local waterway.
Clean Ditches and Drains – Anything used to drain water from your property should be inspected and cleaned. Gutters, ditches, swales, or drains clogged with weeds, yard debris or dirt will contribute to flooding. Anything you can do to assist stormwater drainage will help protect your property and neighborhood from flooding.
Shelter Your Waste Containers – If possible, secure your trash/recycling containers inside a garage or shed to prevent waste from blowing out into the neighborhood. If you are unable to find an indoor storage space for the containers, try weighing down the bottom by placing something heavy (like bricks) inside the container and securing the top with a bungee cord or duct tape.
Prevent Chemical Spills - If your garage always floods, make sure any automotive fluids, lawn and garden chemicals, pesticides and other household hazardous waste are kept off the ground and in a secure location. This will prevent unnecessary chemical spills into stormwater.
Choose Higher Ground – If you live below sea level and see flooded streets with even the smallest storms (I'm looking at you, Norfolk and Poquoson!), consider moving to higher ground. Move your vehicles to a nearby public parking lot that does not flood and move household items off the floor or onto a second floor.
Trim Branches – Tree branches should never be allowed to scrape against your roof or power lines. The power company will maintain limbs around power lines, but it's your responsibility to keep branches from harming your home.
Stay safe, Hampton Roads!