T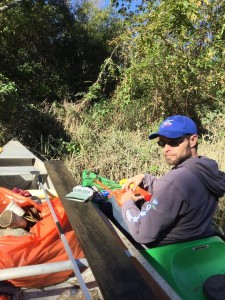 he City of Suffolk, for the first time, took part in the International Coastal Cleanup organized by Ocean Conservancy.  In Virginia this initiative is coordinated locally through Clean Virginia Waterways based at Longwood University.  The initiative is designed to raise awareness about and reduce ocean marine debris.  However, it's more than just a traditional cleanup.  It is an effort to understand what type of debris and how much is getting into our waterways.  To understand it, a survey must be taken to find out how many tires, plastic bottles and kitchen sinks etc. are found within the area surveyed.  This makes this initiative more complicated than your traditional cleanup.  As Litter Control Coordinator for the city and veteran Clean the Bay Day Captain I knew that conducting a debris survey of the downtown section of the Nansemond River shoreline in kayaks and canoes would be challenging.  Not challenging because it's mentally complicated, but practically, as it's not easy cleaning out the wetlands, reaching for plastic bottles, completing a survey whilst trying not to drift or drop something. 
So being our first year, and as a seasoned kayaker, I knew it would be literally a juggling act and so I wanted to "get my feet wet" before we really promoted it and recruited volunteers.  I registered our cleanup with Clean Virginia Waterways, but I kept it exclusive to people I knew with the goal of getting feedback so that next year when we roll it out to the public it would run smoothly and give us a good foundation to build on year-on-year.  As an experienced volunteer coordinator it's essential that an event runs smoothly and is well-organized.  Nothing frustrates a person donating their time more than a poorly organized and executed event.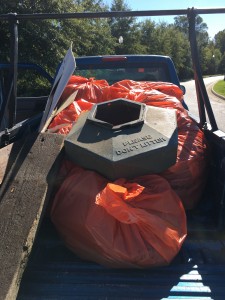 So what did we learn from our 3 hour pilot effort on a beautiful Saturday morning in October?  To do this in canoes and kayaks it takes two people.  One person has the litter grabbers and one person with the pencil and clipboard to record the data.  I had originally thought that we would do the cleanup and then do the survey by emptying the bags and recording all the debris using the app developed by Ocean Conservancy.  However, it quickly became apparent by the rate of bags we were filling that this method would be extremely time consuming and, in addition, I realized there was a lot of larger items we had to leave behind, but needed to include in the survey.  The largest of these items was an ice refrigerator like the ones you find outside any gas station.  I suspect this came from the gas station washed out by Hurricane Mathew the week before and then marooned in the wetlands.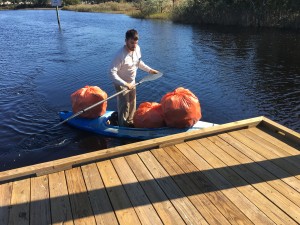 Having the right equipment is also important.  I purchased four sets of six feet long litter grabbers and tested them out during this cleanup and they are great at reaching into the wetlands and grabbing plastic bottles and other types of consumer packaging.  I would highly recommend these for this type of a cleanup.  It's also important to have a larger canoe or small boat to go between teams offloading the collected debris, providing supplies and dropping the debris at the collection point.      
I'm thankful for having done a test run before actively recruiting volunteers next year.  It's a fun and an educational experience as well as rewarding to be part of an international effort to collect data and contribute to a global picture of what type of debris is finding its way into our oceans.  With quantitative data, governments, businesses, non-profits, individuals etc. can begin to address the problem and work towards solutions and hopefully we will see a downward trend in marine debris. 
One of the highlights for me was meeting a guy named Bill Farrell.  Bill was enjoying a morning stroll by the river as we were in the middle of the cleanup.  He shouted out to me "thanks for doing this, I have a kayak, how can I get involved?" so I told him I'm the Litter Control Coordinator in Public Works.  Monday morning when I was back in the office he called me and gave me his details and said his wife would like to help as well.  I never expected to be recruiting for next year so soon but I'm looking forward to it and making this an annual Suffolk event which will be fun and educational for all. 
For more information about Clean Virginia Waterways and the International Coastal Cleanup http://www.longwood.edu/cleanva/
So what did we find?
| | |
| --- | --- |
| Items Found | Number of Each Item Found |
| Plastic Bottles | 227 |
| Aluminum Cans | 114 |
| Glass Bottles | 63 |
| Styrofoam Cups / Food containers | 58 |
| Plastic Bags | 18 |
| Tires | 4 |
| Wooden Planks | 4 |
| Yard Signs | 3 |
| Oil Cartons | 3 |
| Traffic Cones | 2 |
| Buoy | 2 |
| Cooler | 2 |
| Ice Refrigerator | 1 |
| House Insulation | 1 |
| Tool Box | 1 |
| Trash Can Lid inscribed "Please Don't Litter" | 1 |
Guest blog contributed by Wayne Jones, Litter Control Coordinator with the City of Suffolk.