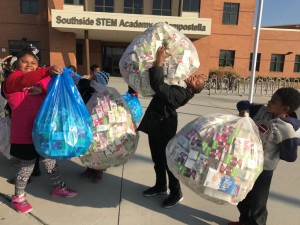 To celebrate America Recycles Day in November, students in participating third grade classrooms in Norfolk Public Schools went head-to-head in the Carton Collection Challenge. Students were challenged by Keep Norfolk Beautiful to collect milk and juice cartons over a two week period and were competing with one another for prizes. The first, second and third place winners received their awards this past Monday. Megan Hale, Public Service Coordinator with Keep Norfolk Beautiful reported "we are so proud of the students and their efforts to recycle more."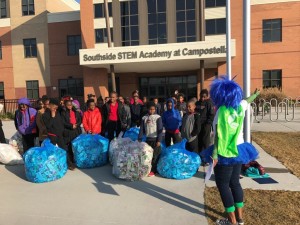 Megan tells us that the winning classroom collected over 1,800 cartons and received a $100 Visa gift card plus a pizza party! Students also had a chance to meet the Recycling Rockstar and the recycling truck driver who carries their recyclables to the materials recovery facility (MRF). The kids even got to toss all their collected cartons into the recycling truck!
The Carton Collection Challenge was made possible through a partnership between Keep Norfolk Beautiful, Recycling Perks and TFC Recycling.