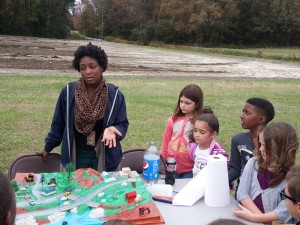 About 1,200 second-grade students from Suffolk Public Schools recently got some hands-on experience at a farm.
Farm Days is a two-day hands-on farm experience that takes place at the Virginia Tech Research Extension Farm on Hare Road. "It's a very good experience for the kids," said Julie Moyer, science instructional specialist for the school system. "It's their only field trip. The students look forward to it every year."
The event has been held annually for 12 years and features several learning stations for children to rotate through. Some of the topics covered by the stations were the water cycle, pollution prevention, recycling, and animal care.
The City of Suffolk Public Works Engineering Department attended the event to help educate the children about the effects of litter and other pollutants on our waterways and wildlife. "The kids were great listeners and very compassionate when they were shown pictures of harmed wildlife," remarked Wayne Jones, City of Suffolk Litter Control Coordinator, "one student said it made him feel mad that people litter and hurt the animals". At Wayne's station, the kids talked through the top 5 litter items found around the world including cigarette butts, food wrappers, bottle caps, plastic bottles, and drink straws. Afterwards the students put their skills to the test with a recycling knowledge game. The students were asked to distinguish between common items to figure out which of the items could be recycled. "It was very reassuring to hear so many of these children know what to and not to recycle" comments Wayne Jones.
The next station ran by Alacia Nixson, City of Suffolk Environmental Technician, focused on how pollutants affect our waterways. Using an Enviroscape, the students watched how our actions affect the Chesapeake Bay. An Enviroscape is a fun portable model that helps to visualize and better understand the sources and prevention of water pollution. Through this hands-on playful interaction the children discussed practical ways to prevent pollution at the source. 
"We were able to reach over 1,000 kids in two days!" says Kathy Russell, education coordinator for TFC recycling. "A key component to changing behaviors is teaching citizens, while they're young, how to be environmentally responsible".
Blog post contributed by Wayne Jones, Litter Control Coordinator with the City of Suffolk.