Every Sunday evening through August 9th, hundreds will gather at Buckroe Park for Grooving by the Bay. Some will tap to the beat of a band and others will dance till the sun goes down or their feet ache. Whichever comes first!
Years ago ashtrays were in every vehicle, restaurant, business, and many homes. Today, ash receptacles are hard to find and businesses require smokers to smoke only outside. Last year at Buckroe Park there was no place to dispose of cigarette butts and cigar tips safely! According to "Keep America Beautiful" research, 32% of litter is found in outdoor recreation areas. Of course, the beach and park are no place for cigarette butt filters that contain a concentation of harmful carcinogens and are undigestable.  They may be picked up by children or eaten by wildlife thinking it is food.  Don't despair!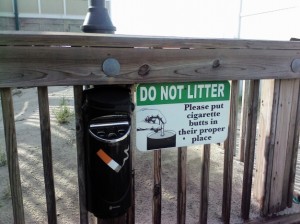 GOOD NEWS! SOMETHING IS DIFFERENT THIS YEAR! Thanks to a Keep America Beautiful  and their Cigarette Litter Prevention Program (CLPP) grant along with $5,000 raised by askHRgreen.org through the annual Keep Hampton Roads Beautiful Golf Tournament, ash receptacles have now been placed for smokers convenience at both Buckroe Park and Buckroe's Fishing Pier!
Be on the lookout for our new additions placed at the pavilion, entrance to playground, restroom area, Sand Dollar picnic shelter, and park and fishing piers. Volunteers will also be passing out free pocket ashtrays to smokers during the Grooving by the Bay concert series. So far, recipients of pocket ashtrays are delighted to become advocates for creating a cleaner community not only for children, but our wildlife and waterways too. 
Come on down and listen to the beat of "Grooving by the Bay" Sunday evenings from 6:00- 9:00 pm. Last concert is August 9th. You just may see me or one of our volunteers passing out pocket ashtrays!  Please introduce yourself!
This blog contributed by Cris Ausink of the Hampton Clean City Commission.