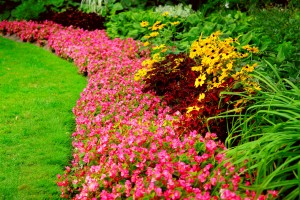 Green may be the most dominant color in a typical yard, but most yards are far from being "green." Lush, beautiful lawns are water-thirsty scourges. Beautiful rose bushes may require pesticides that go streaming into nearby waterways, and the constant hum of gas-powered lawn care machines is the sound of natural resources being guzzled up. Incorporating environmentally friendly landscaping practices into your garden will not only help minimize the negative impacts traditional yards have on the environment, but they can also help reduce the energy your home consumes.
Here are five ways to introduce "green landscaping" into your yard:
1. Start Shading with Trees
Virginia is a temperate region, meaning you can take advantage of the sun's warming effect in the winter and shade your house from the hot sun in summer. Planting deciduous trees such as maples will achieve this by shading in the summer and allowing winter sun to reach your home when the leaves fall. A 6-8 foot tree will start shading your windows in the first year and will reach the roof in 5-10 years. Carefully positioned trees can save up to 25 percent of the energy a typical house uses.
2. Harness Solar Power 
Solar-powered landscape lighting is the natural solution for outdoor lighting – no messy wires to pose a trip hazard and no drawing unnecessary power from the grid. Simply pop the lighting in the ground and you've instantly enhanced your outdoor space and added an extra layer of security, all without putting any strain on the environment. If you prefer an even more natural look, there are some solar lights available that are "hidden" inside a rock.
3. Grow a Veggie Garden 
What could be greener than growing your own food? The ultimate combination of natural and local – with the added bonus of saving dollars at the grocery store – a vegetable garden not only enhances your refrigerator but it uses much less water than grass, with far more reward.
4. Cut Out The Lawn 
Along those lines, a lush green lawn is not a natural phenomenon. Instead, embrace the native grasses and plants of the area and consider xeriscaping with drought-tolerant plants native to southeastern Virginia such as butterfly weed, black-eyed Susan, blazing star and Beardtongue. Less lawn equals less water use, less gas consumed to power lawnmowers and less need for pesticides and chemicals that pollute our waterways.
5. Install Rain Barrels 
A simple and effective solution for saving water in your garden is to install a rain barrel under your gutters. Rainwater has more nitrogen in it, an essential nutrient for plants, making it healthier as well as more efficient for watering your garden than ground or tap water. You can also use it to wash your car, pets, patio furniture and many other uses (apart from drinking).
Now that you've created the perfect outdoor space, make sure you use it to its full potential. The more time you spend outdoors enjoying nature, the less time you spend inside your home using up nature's precious resources!
Guest blog submitted by Jennifer Tuohy who writes about lighting, including green homes and landscaping, for Home Depot. Jennifer focuses on providing tips to homeowners on how to minimize energy consumption.